PODS Breaks Ground on Fox Valley Facility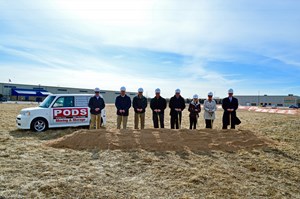 APPLETON – The local PODS Franchisee is excited to announce the official groundbreaking of their new Fox Valley location. In celebration of the expansion a groundbreaking ceremony was held on Wednesday, March 21, 2018 at 2801 West Evergreen Drive in Appleton, Wis.
Bayland Buildings, Inc. of Green Bay has been chosen as the general contractor for the 40,000 square foot storage center. Construction completion is expected the summer of 2018.
Locally owned Packerland Portable Storage Inc – D.B.A. PODS has another location in Green Bay. Andrew Mielke, co-owner of Packerland Portable Storage Inc, will be relocating his existing Appleton operation to the new facility located within the Little Chute Northwest Business Park. "The new location is a perfect fit for our PODS customer base and access to the PODS delivery service area," said Mielke.
The Village of Little Chute is committed to supporting economic development opportunities and looks forward to this PODS franchise opening in Little Chute. The Little Chute Village Board and staff worked with Andrew and his team to provide a Tax Increment Financing package that enabled the project to move forward.